Unique Content Service - Blogs, Descriptions, Articles

You've heard the mantra 'content is king' and you agree, but how do you keep your site filled with fresh, relevant, and informative content? We recently discovered a unique service that complements our data sets beautifully: Constant-Content.com. This website is ideal for finding unique articles, commissioning custom content, and filling in the gaps of websites, blogs, ecommerce sites, Facebook fan pages, and more. Their depth of content categories to choose from cover a vast array of subject matter areas such as Arts & Culture, Business, Health, Relationships, Technology, and hundreds more. But the real power of the service is the custom content creation, where you can create a request and order articles written to your specifications.


Delivering Value and Generating Traffic with Constant-Content
First, you should know that Constant-Content.com has some of the strictest editorial standards of any content marketplace. The editorial team makes sure that all of the written material submitted meets its high standards for grammar, punctuation, style, spelling, language, and readability. Articles that don't make the grade must be revised by the writer before they're considered for inclusion in the Constant-Content catalog. These high editorial standards ensure quality and attract top-notch writers. In addition to a thorough human review, the editors run all submissions through
iThenticate
, a powerful plagiarism detection tool, to rule out both blatant and unintentional plagiarism.
What Exactly is iThenticate?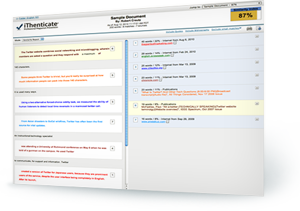 For your legal safety and peace of mind iThenticate provides the tools necessary to confirm the originality and authenticity of your important documents, research and other writings in order to avoid plagiarism before they're published. Failing to give credit from sources of information is as serious as copying someone else's work. iThenticate can compare your work through their enormous database of already published content to make sure your work is original and no mistakes were made when quoting a source of information or giving them credit for some of their content.
Plagiarism isn't always done intentionally, sometimes without realizing it we can forget to give credit to an information source. Plagiarism is a very serious crime whether it's accidental or intentional. Detect and prevent plagiarism within your own documents, manuscripts, and other literature for your personal and legal safety as well as peace of mind. And when it comes to paying for unique content, well..
You Want it Unique!
After all one of the primary reasons you are adding it is likely for better ranking and the last thing you want is to be hit for
Duplicate Content Penalties
. The fact that Constant Content adds iThenticate verification to their standard process speaks volumes in terms of both assurances to you as a buyer, and to their overall integrity.
Massive Pre-Written Categorized Content Catalog

With tens of thousands of high quality, unique articles in its catalog covering every topic imaginable, Constant-Content may already have the perfect article or review for your website, blog, or newsletter. If it doesn't, you can place a request for custom content. The request system is perfect when you need custom content such as an "about us" page or product descriptions. It's also an excellent choice when you want an article covering a specific topic.
When you issue a public request, all active Constant-Content.com writers will receive a notification detailing the nature of the request and its price range. Those who are interested will respond by writing an article based on your specifications and submitting it to the Constant-Content editorial team. Once the article passes the editorial review, you will be notified that a new article is available for your consideration. If it meets your needs, great! Simply purchase the article and use it how you see fit. If not, there's no obligation whatsoever. The writers understand this and are willing to take the risk; the article will then be placed in the Constant-Content catalog for sale to other customers.
A Perfect Supplement with Our Databases for Better SEO
Let's say you add a database directory of
restaurant locations
to your site, not only are you giving your users a nice resource and a reason for them to return, you can literally add hundreds of thousands of new pages to your site that can be indexed by search engines. This has the potential to give you millions of different key phrase combinations that can bring new traffic to your site. Now, Pair that with custom written descriptions or reviews from Constant-Content's writers and those millions of pages can start ranking very very high.
We've found that using content from Constant-Content.com alongside our
data sets
has allowed us to add additional value to our users and enhance our SEO efforts. With a talented pool of writers, the highest editorial standards you'll find anywhere on the Web, and reasonable prices, Constant-Content solves the problem of keeping your site relevant, fresh, and informative.
Constant Content 25% Off Promo Code
We reached out to the folks at Constant-Content and let them know we were planning on doing a write up about their services, and they were kind enough to supply us with a Coupon Code for first time buyers to give their services a try. So use the code
odditypromo
when you sign up in the 'Promo Code' field and you will get
25% OFF
the first article you buy! So go ahead and give em a shot, you won't be disappointed.