Restaurant Locations Database
v.1.0.36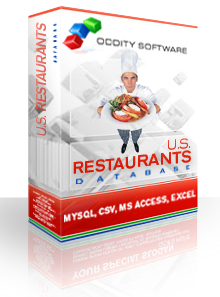 451,784

Restaurants

This database includes restaurants from all over the U.S. The types of restaurants in this database include Steak & Seafood Restaurants, Dessert Restaurants, Indian Restaurants, Burger Restaurants, Restaurant Equipment & Services, Japanese Restaurants, Diners, Southwestern Restaurants, Greek Restaurants adn many other categories. If you are Looking to Market to Restaurants, or start a restaurant this business database is a great reference list to have.
Handy Tool for Anyone Interested in the Restaurant Business
Everyone loves a night of dining out. It's one of Americans' main sources of entertainment and is a great way to spend time with friends and family. Everyone has to eat, so the restaurant business is always booming. Whether you are looking to expand your network of restaurant business leads or just want to have a lot of restaurant contacts available for quick access, the U.S. Restaurants Database is sure to come in handy.
Immediately Increase Your Database of Restaurant Leads
Investing in your contacts has never been more pertinent than now. With the growth of the Internet, networking has never been so easy and staying ahead of the game is sometimes difficult without the appropriate resources. The U.S. Restaurants Database is a neatly organized reference that will immediately increase your contact list. The U.S. Restaurants Database downloads to your computer so you can access it anytime from any location, no Internet connection required! This is a huge advantage to those that need to be connected to the restaurant business at all times.
Manage Your Restaurant Contacts Effectively
Not only is it instantly available, it's also very easy to manage. When you have this many contacts in one application, it's essential that the layout is basic and simple to update, sort, and handle. Computer databases are the best way to manage your restaurant business leads, especially when we've already done the work for you. This contact list contains nearly half a million restaurant contacts. Imagine the possibilities with this many up-to-date leads at your fingertips.
A Great Resource to Invest In
If you are thinking about diving into the restaurant business, this database is a must-have resource. You can easily network with others in the industry and learn the ways of the restaurant business. If you are starting a restaurant search engine or directory on the Internet, the U.S. Restaurants Database is the best tool to accomplish all of your needs. It's laid out so you can effectively add it to your Website without any hassle. Make the investment and get networking with the leading restaurants in the United States.