Construction and General Contractors Database
v.1.0.39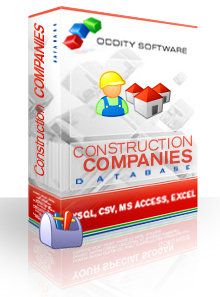 382,855

Construction Companies

This download database contains listings for businesses that relate to construction, contracting, home development and repair, as well as Construction Companies throughout the United States.

Construction companies are responsible for the development and construction of a building or similar infrastructure. Construction companies will typically be well versed in the fields of civil engineering and architecture. While some may be under the impression that construction companies work in one area, this is not the case. In actuality, construction companies must be efficient at multitasking. A construction manager will often be in charge of the project, and they will work with the design engineer and project manager. Construction companies will employ a large number of laborers and tradesman to assist them in physically building the structure. The vast majority of construction companies will perform small renovations rather than larger projects. Large scale construction projects will require teams of engineers and laborers.

In order for the construction company to complete a project successfully, they must plan well in advance. Those who are responsible for the design must also look at the environmental issues surrounding the construction. Schedules must be followed, and a budget must be set up. Safety is also an important concern that construction companies must consider when planning a project. There are a large number of materials that are necessary to build a structure, and the company must be responsible for the logistics and any delays in construction that might occur. Construction companies will often work in either one of three categories, and these are industrial construction, highway construction, or building construction. The construction company will use a specific team for various construction tasks.
Proper precautions addressed within construction database
Finding a successful construction company can be a strenuous task. However, the construction companies listed within the construction database ensure buildings are sound, meet municipal, state and federal building codes and are followed by stringent guidelines. All of these companies must apply for building permits, adhere to structural codes in completion phases and make sure the team laborers are licensed and well-trained.
Download construction database for list of professionals to go to first
Ultimately, buildings don't get erected overnight. Before individuals are allowed to build on a site, it's best to have that site surveyed by a land surveyor, land assessor and civil engineer. The construction database offers a large variety of trained professionals who can properly do this task. The ground in which the site would be used for the building is best suited if the foundation is stable enough to support the building's weight, if the building can gain water and sewage access and proper disposals and isn't being built on sacred ground or too close to faulty lines. Much planning and surveying takes place to see the building is constructed on sound ground. Listed in our construction database are the companies that will do this AND right.
Individuals, marketing professionals and web masters can gain knowledge from construction database
The content provided within the construction database is organized in an easy to read fashion. This leads to less time looking for a professional and more time getting the job done. For marketing professionals who wish to bulk up a search engine, the download construction database is perfect for your needs. Whether it's telemarketing work or simply direct mail marketing processes, this construction database can be utilized by any individual and still be worthwhile. This effective hands-on list of construction companies can be a valuable investment for many individuals; take a chance with it!