Hotel Details Database
v.1.0.15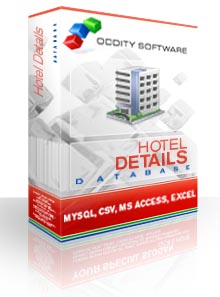 93,833

Hotels

Our Hotel Details Database contains a comprehensive listing of nearly 88,000 records for hotels including their full addresses and a lot of other essential information. It provides a full catalog of hotels in most cities and towns within the United States, providing easy access to pertinent details for millions of residents and tourists. Since all of the listings are current and maintained to ensure that each one is up-to-date, you don't need to worry about any of the entries being old. Instead of wasting time putting together your own database, one hotel at a time, why not take advantage of the affordability and flexibility of Oddity's database?
Hotel Details Database Content
Available in a variety of formats including MySQL, CSV, Microsoft Access, DBF, and Microsoft Excel, this particular database can be downloaded quickly and easily. Best of all, it offers an easy way for hotel goers to find the information that determines which specific location they select for an overnight stay. Not only is the hotel's physical address, phone number, and website URL included, but each listing includes details such as the hours of operation for the front office, pool, club room, dining, and so on. Plus, essential information such as accepted methods of payment, parking options, check-in time, and check-out time are included, giving your viewers everything they need to know when booking a hotel.
Filling out your website with a content database is an easy way to generate more traffic in your direction. This is especially true for websites driven primarily by database content. What better way to bulk up your site than to incorporate a comprehensive database such as the Hotel Details Database? Not only are you filling out your site, but you are doing it with current, relevant information, which is what Web users are actively looking to find.
Easy Access to Hotel Details
Featuring detailed records with all of the pertinent aspects of hotels in a wide variety of locations can be an important facet for the success of your particular business. In today's busy world, consumers like to have instant access to the information they need, including detailed facts on places they want or need to go. Locatorapps have become an essential aspect of this process, as you probably already know.
Many people today want their information on-the-fly, and they want it quickly. With an all-inclusive listing of hotels throughout the U.S., you provide exactly that. Locator Apps are designed for people in a hurry, without access to printed information, and with an existing need. Just as Locator Applications give people the means to find the information they want, your database-driven website provides those details, driving traffic to your virtual doorstep.
With our Hotels Details Database, you can provide your Web visitors with easy access to the information they need to make a good decision within seconds. When you feature an all-inclusive database of hotels and the information attached to them, you are giving Web users exactly what they want – quick access to streamlined information without all of the unnecessary details getting in the way of finding the specific facts that they need to have.
Hotel Details Database Maintenance
Oddity's Hotel Details Database allows you to put your time and effort into other business endeavors that are just as critical to the success of your company. After all, once you have incorporated this content into your website, it's self-sufficient. Maintaining it is a breeze since all you need to do is update it occasionally. With your database in place, you can focus on other aspects of your website including the creation of additional content that has been designed for the purposes of generating more traffic to your website.