Bank Routing Numbers Database
v.1.0.2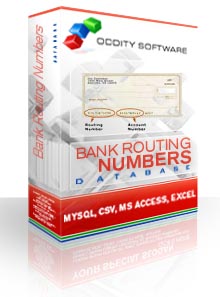 29,916

Routing Numbers

Make Sure All Check Transactions Are Carried Out Effectively When conducting business, you are always faced with the fear of not getting paid, a check bouncing, or other financial problems that pop up when you least expect them. Having the appropriate tools to deter these kinds of situations is imperative, especially when you are the one responsible for making sure all of the financial transactions are carried out effectively. As more and more businesses turn to the Internet for financial transactions, it is especially important to be financially secure.
A Worthwhile Tool for Any Business
One of the best tools for any business is the Bank Routing Numbers Database, which contains over 22,000 accurate records to help you track transactions that are carried out using checks. Businesses can use these routing numbers in payroll applications for direct deposit, check by phone systems that need this information, or Internet purchases that should be verified. There are endless uses for bank routing numbers that are often overlooked.
Avoid Human Error and Verify Bank Routing Numbers
Having bank routing numbers can save you time and money down the line, especially if you are doing a lot of transactions with checks over the Internet or when the person isn't present. It's really easy for people to accidentally enter the wrong routing numbers or confuse them with their account number, which could ultimately cost you hundreds of dollars in returned checks. Not only is it important for online businesses to verify bank routing numbers, it's also important if you are receiving payments over the phone. Some people might accidentally hit a wrong key or read numbers backwards. The fees associated with inaccurate bank routing numbers can cost you a fortune, so verifying them via the Bank Routing Numbers Database is a great way to avoid this pricey expense.
Trouble-Free Database So You Can Easily Find Bank Routing Numbers
The downloadable databases at Oddity are extremely easy to use. The Bank Routing Numbers download list is quickly saved to your computer's hard drive for immediate and anytime use. You can simply sort, update, change, delete, or add any new information to make the database more suitable for your needs. Hundreds of business owners have downloaded this download list to assist them with verifying bank routing numbers. It's a great resource that will rarely, if ever, need to be changed. You can use this database for years! Print hard copies so you can check routing numbers without even logging on to your computer! No need to even use the Internet. This will save you time, especially when you don't have access to your computer or Internet.
Take Advantage of Our Research!
We have compiled thousands of bank routing numbers in this database so you won't have to deal with erroneous checks ever again! Take advantage of our legwork and save your business money, time, and energy. We guarantee that you will find the Bank Routing Numbers Database to be a worthwhile asset and investment that will last decades. Download this database today and get tracking!