Craft Supplies Database
v.1.0.0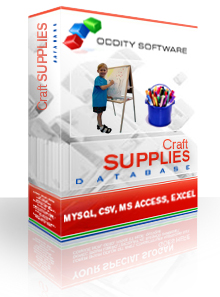 37,610

Database Records

Craft is the process of creating items by hand using various art techniques, often with the use of different materials such as wood, clay, textile, glass, metal, paper, plastic, and beads.

In these modern times, crafts are often practiced as a hobby and not as professions as in the olden times but many people do make a living out of creating decorative or functional products. Doing crafts require patience, creativity and skill. A good amount of time will be invested before a person perfects a particular craft. It also takes creativity and originality to create pieces that can spark interest in serious collectors. But whether or not you take on a particular craft for your personal enjoyment or to create beautiful pieces for sale, practicing a craft brings about a sense of calm and satisfaction that creating items from scratch brings.

There are a host of crafts that one can get into. Some of the more popular crafts are those that use paper and textile because they are often simpler to start and do not require a big amount of cash outlay. Scrapbook-making is becoming popular because, finishing a page brings instant gratification. There are special papers, scissors, punchers, bookmarks, beads and cut-outs available for scrap-book making and beginners may choose to begin with simple designs to save on money and move on to more elaborate details when they become comfortable with the craft. Origami or the Japanese art of folding paper is also an enjoyable paper craft that doesn't require too much money. Other paper crafts include: calligraphy, Card-making, decoupage, Quilling, Stamping, Decoupage, Collage and Book binding.

Crafts that use textile are popular because they are relatively cheaper than crafts that require wood or metal. Products of textile crafts are also often functional and may be used for a host of purposes including as home décor or as clothing. Textile crafts include cross-stitching, patchwork, quilting, weaving, tapestry, crocheting, knitting, lace-making, embroidery, lucet, macramé and others. All crafts require attention to detail but more so crafts that use textile because designs are often intricate.

Sculpture, wood-working, carving, pottery and ceramics require more time to master but can bring utmost satisfaction to the maker. Jewelry making and metal working are also popular and enjoyable crafts.

In arts and crafts, the satisfaction is gained not from the end-product but from the process of creating. Whatever craft you choose make sure you use only quality products and equipment to guarantee beautiful and lasting results.