Mississippi White Pages Database
v.1.0.0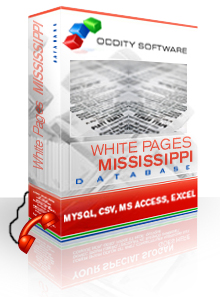 835,398

Database Records

Mississippi is a state that can be found in the southern portion of the United States. It was named after the Mississippi River, and the largest city in the state is Jackson, which is also the capital. Mississippi also has a population of over 2.8 million. The name was taken from the Ojibwe word which means "great river." The states which border Mississippi are Tennessee, Alabama, Louisiana, and Arkansas. In addition to the Mississippi, there are a number of other large rivers that can be found in this state. Like many states in the Deep South, the climate is humid subtropical. It has also been subjected to numerous hurricanes over the years. One of the first Europeans to explore this region was Hernando de Soto, and a number of Native American tribes resided in the region.

The total GSP for Mississippi in 2003 was just over $70 billion. It should be noted that Mississippi is one of the poorest states in the United States, and this was a result of the Civil War. Prior to the Civil War, Mississippi was one of the wealthiest states in the country. While it has improved over the years, Mississippi still ranks lower than many other states. Some of the things which have improved the economy in this state are casinos, and before Hurricane Katrina, Mississippi had one of the largest gambling industries in the state. Due to the destruction of this hurricane, it will take time for the state to recover. The government in Mississippi is known for collecting income taxes in three sections, and the percentages range from 3 to 5 percent.

The Mississippi White Pages Phone Directory Database includes residential phone and address data for the state of Mississippi. These listings are updated on a 90 day basis to contain the freshest possible phone directory data.