Businesses in New Zealand
Download New Zealand Professional Business Database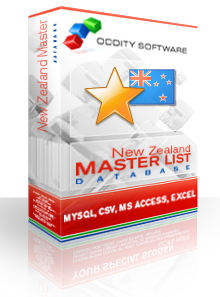 New Zealand is an excellent place for American businesses that are looking to market their products to a foreign country. There are a number of reasons for this. The primary language spoken in the region is English, and much like the United States, the government system in New Zealand is based on a democracy. In addition to this, both the economy and business structure is quite similar to the American based system. It is important to realize that the business structure of New Zealand is very complex. The good news about this is there is not a great deal of risk. The market is not highly regulated, and the primary industries in the country are agriculture, construction, and energy. As can be expected, technology is an important industry as well.

A number of statistics show that the economy of New Zealand has continued to improve over the last few years. Research from 2004 shows that the economy grew by just over 4%, and one of the primary factors behind this growth was the construction industry. Industries that deal with electricity are growing rapidly, and the retail industry has grown as well. In order for businesses to succeed in this region, there are a number of sectors they will want to take a close look at. One of the most powerful is Information Technology. A number of studies indicate that New Zealand has an extensive number of networks, and over 70% of the population has access to the Internet. As you would expect, this has led to the growth of many e-businesses. It should also be noted that over 90% of all the computer equipment that is sold in New Zealand is imported.

This presents two opportunities for businesses that are looking to move into region. The first opportunity is for businesses that sell either computers or computer components. Since over 90% of all the computers sold in New Zealand are imported, this means that wholesalers or retailers who are in the business of selling computers can earn significant profits. Because a large segment of the population has access to the Internet, many of these computers can be sold online. Another industry that is experiencing rapid growth in New Zealand is Biotechnology. The government of New Zealand has stated that it is interested in promoting Biotechnology in the region, and this could lead to a bonanza for companies that specialize in this area of research.

Another popular industry in New Zealand is telecommunications. Unlike the United States, where the telecommunications industry is hard to break into, a large percentage of the GDP is this country is used towards telecommunications tools. A number of studies indicated that well over 70% of the population uses a cellular phone on a frequent basis. There have been a number of technical challenges that have reduced the number of people who have access to broadband Internet services, but this has allowed the field of wireless technology to grow at an exponential rate. It is also possible to import telecommunications products without having to pay for import duties.