About Sports Medicine
Download Sports Medicine Database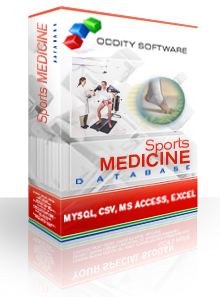 Sports medicine is a discipline which deals with medicine that is used to treat athletes, and it is commonly used for both professional athletes and amateur athletes. The group of people who will commonly manage these medicines are surgeons, doctors, and physical therapists. Coaches will also be involved in the management of sports medicine. While sports medicine has become quite popular today, it has existed since antiquity. One of the first peoples to utilize the benefits of sports medicine were the Greeks and Romans. In these civilizations, athletics played an important role in society, and physical training was a requirement for the youth.

Despite this, the term "sports medicine" wasn't used until 1928, when the Olympics were held at St Moritz. For thousands of years, the care of athletes was reserved for specilists who may not have worked with the general public. The primary reason for this is that athletes require special care that most doctors may not offer. A therapist who deals with sports medicine is expected to be well versed in a number of different areas, and some of these are diet and physical therapy. Many experts consider sports medicine to be a difficult concept to define. The reason for this is because instead of dealing with one element, sports medicine deals with a multitude of different elements. In addition to the healthcare professionals that may work with athletes, educators may also work with them as well.

A number of people are under the misconception that sports medicine is simply related to orthopedic issues. However, the concept of sports medicine extends beyond this. It is important to realize that there are a number of things that can cause athletes to be injured. Some of these are environmental or psychological issues. Because of this, a wide variety of different fields are connected to sports medicine, and some of them are biomechanics and cardiology. For female athletes, certain issues such as menstrual cycles, pregnancy, and bone density must be considered. As you can see, the field of sports medicine requires experts from a number of different fields, and is never connected to one narrow section.

The consumption of supplements plays an important role in sports medicine. The way that these supplements are administered in relation to the doping amount or gender of the athlete has become the subject of some controversy. When athletes travel to foreign countries, the effect of travel must also be considered. Overall, sports medicine is a complex field, and scientists are making new discoveries on a consistent basis. In the United States, a Sports Medicine specialist will commonly be used to assist athletes, along with an Orthopedist. The athletes are expected to go through a training program that may last as long as two years. The specialists that work with these athletes must have an advanced knowledge of various areas. the American Board of Medicine Specialties has formally recognized sports medicine as a specific field. Currently, there are approximately one thousand sports specialists working in the United States.