About Taxicabs & Transportation Services Database
Download Taxicabs & Transportation Services Database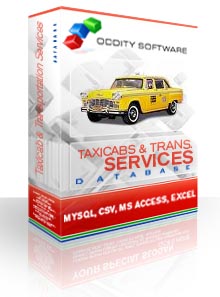 A taxicab, commonly known as a taxi, is a method of transport that carries one person or a small group of people from one point to another. The client determines the point of termination, and there are no common schedules which determine the taxi's cost being more expensive as opposed to other methods of public transport.

Regulation, prices, hiring, hours of operation, and other such characteristics differ from place to place, but essentially it's the same service all over the world.

Taxicabs differ in style all over the world. It's not uncommon for in Western Europe to have Mercedes Benz type cars act as taxis. In Mexico City, by and large, most of the cabs are old VW beetles from the 60s and 70s. In less developed areas, motor vehicles are not so common, and taxis can be such things as hand-powered rickshaws and boats.

In more developed areas; accessibility has been greatly increased with regard to wheelchair access. Taxis have ramps fitted with extra wide doors to accommodate those in wheelchairs. Whilst taxicabs have been modified for wheelchair users, they are not exclusively for them and can be used by others.

Generally, a taxi cab charges by the meter, which is defined by zones within a specific local region. Sometimes taxis have fixed prices to places dependent on the region, and an example of this would be the airport or bus station. A lot of times, especially in less developed areas, a price can be negotiated before entering. Be warned though as a lot of illegal taxis operate with no license and are danger to the public.