Post Office Locations Database
v.1.0.1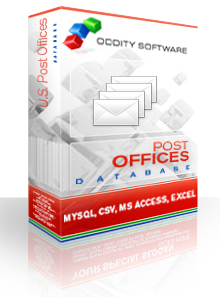 20,638

Post Offices

A post office is a facility (in most countries, a government one) where the public can purchase postage stamps for mailing correspondence or merchandise, and also drop off or pick up packages or other special-delivery items. This database contains post office locations in the United States. Download this database in multiple formats. A great data set for local search, and locater websites.
The Most Extensive Post Office List is Just a Click Away
With over 212 billion pieces of mail being delivered each year in the U.S., post offices around the country are hard at work. Thousands of Americans are sending and receiving mail every day. Unfortunately, it's often hard to find the nearest post office, especially when traveling or living in a new area. Luckily for many, we've compiled an extensive list of post office locations throughout the United States in our Post Office Locations Database. This data set is sourced from active business filings under the 'Post Office' SIC code.
Never Miss Out On Sending a Postcard!
With over 20,000 locations to choose from, you're bound to find the nearest post office to your home, hotel, or office. Searchable by city, state, or zip code, the Post Office Locations Database makes it a cinch to find. With this downloadable database, you can travel the country and never miss a chance to send post cards back home! Store the download list right on your computer for access anytime, no need to connect to the Internet! That is a major advantage while traveling or when you move into a new home without Internet.
Manage Your Contacts The Way You Want
All of the information in the Post Office Locations Database is up-to-date with the most recent contact details. You won't find a better database of post offices anywhere on the Web! You can save time by downloading this database and not searching the Web, which is mostly filled with outdated content anyway. Most importantly, our databases are easy to manage, sort, and update. Our basic layout makes it simple to manipulate the Post Office Locations Database to fulfill all of your needs!
Valuable Content for Web Developers
Adding worthwhile content to search engines and niche directories is a major part of generating traffic, which ultimately leads to increasing revenue. Web developers will have it easy using the Post Office Locations Database. Take this download list and make it work for you on your Website. You can instantly download this database and having it added to your Website in minutes! Now all you have to do is sit back and let your Website work for you.
The Convenience of a Downloadable Database
Downloadable databases make life easier for everyone. Saving time is saving money. Take advantage of the Post Office Locations Database today! Make sure you never skip sending a postcard again, and make sure your Web visitors don't either!