Lawyers Database
v.1.0.29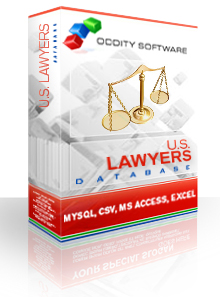 210,411

Lawyers and Law Firms

This download database includes close to 1 million lawyers categorized and sub-categorized records. Some of the categories in this layers database include: Tort Attorneys, Trial Attorneys, Arbitration & Mediation Services, Divorce & Mediation Services, Disability Law Attorneys, Patent & Trademark Attorneys, Collection Law Attorneys, Wrongful Termination Attorneys, Nonprofit Organizations Attorneys, General Practice Attorneys, Whistleblower Attorneys, Child Abuse Law Attorneys, and many more. Please see below for a full list of categories and statistics available in this content database. With a multi-category structure in place this could result in over 1 million indexable pages.
Leave Interpreting the Law Up to the Lawyers
In the United States, the law is everywhere. Following the law is expected of you, from speed limit signs to copyright infringement rules on CD's. Interpreting the law, however, is far more complicated than simply reading some text on a sign or CD. The key is to leave the hard work up to a qualified specialist, most commonly known as a lawyer. Lawyers go to years and years of schooling to give you the best legal advice possible. If you don't have a lawyer, now is a great time to get your hands on an invaluable resource that can help you find one.
Instantly Access Thousands of Lawyer Contacts
In a swift click of your mouse, you will instantly be in front of almost one million lawyer contacts across the nation in our Lawyers Database. This is an exclusive contact list that can be crucial to your happiness and stress-free life. Don't try to interpret legal documents without a trained eye from our lawyer contact list by your side. Be careful about making life-changing decisions without an attorney present to explain possible legal consequences. Legal jargon is hard to understand and many people overlook critical language that can put them in jeopardy. Lawyers can assist you in making the right decisions, on paper and in court.
In court, lawyers can act on your behalf and make sure you are represented properly and effectively. Knowing the rules of the court is important, and knowing the law to back it up is even more important. Finding the skilled lawyer to fight for you in the courtroom is simple using our Lawyers Database. Find trial lawyers that will do all they can to make sure the law is abided. Whether you're fighting for custody or battling a DUI charge, our lawyers contact list will assist you in your search for a qualified attorney.
Exclusive List of Specialized Lawyers
Lawyers often specialize in very specific subjects like immigration, tax, adoption, or sexual harassment. Our Lawyers Database is filled with these kinds of lawyer contacts that will help you with your important legal issues. It is critical to use an attorney that specializes in exactly what you are seeking legal advice on and it is easy to find the perfect lawyer in our contact list. Specialized lawyers can take your situation and make sure the law is upheld. Don't waste time trying to find a qualified lawyer using old-fashion methods like telephone books or watching TV advertisements when you have the lawyer download list right here in front of you. Take advantage of this downloadable database of thousands of lawyers. You can never have a long enough list of attorneys easily accessible when things get complicated and you need a legal expert.
Consult an Attorney Before Signing
Business should never be conducted without a lawyer overlooking the procedures. Properly written documents between parties should always be used to avoid confusion and conflict in the future. Lawyers from our website database can make sure your documents are written clearly and that you aren't signing anything that might potentially be hazardous to your company. Lawyers specializing in all sorts of businesses are spread throughout our lawyers download database.
Find Employment Opportunities in Law
College graduates seeking employment will find a wealth of business leads in our Lawyers Database. Getting into law is often difficult, but using our download list, you will have access to thousands of attorneys that can help you take that degree to an all new level. Get ahead of the pack by using this attorney resource to your advantage. Don't wait for opportunities, make them happen.
An Investment Worth Making
This download-able lawyers contact list is a necessity for anyone wishing to carry out the law properly and efficiently. Lawyers are the bridge between society and the law and only they can make sure the law is followed correctly. Your lawyer contact list is a simple click away and will prove to be a worthwhile investment. Access your attorney contacts any time right from your computer or print them out and keep them close by. No matter what format, the Lawyers Database is a vital resource and is sure to assist you in all your legal needs.
Categories Include: Accident Attorneys
Administrative & Governmental Law Attorneys
Adoption Attorneys
Agricultural Law Attorneys
Appeals Attorneys
Arbitration & Mediation Services
Arbitration & Mediation Services Attorneys
Asbestos Diseases Attorneys
Asset Protection Attorneys
Attorneys
Attorneys' Information & Referral Services
Attorneys' Support Services
Banking & Investment Law Attorneys
Bankruptcy Attorneys
Business Services
Child Abuse Law Attorneys
Civil Law Attorneys
Collection Law Attorneys
Computers & Technology Law Attorneys
Constitutional Law Attorneys
Construction Law Attorneys
Consumer Protection
Corporate Business
Corporate Finance & Securities Attorneys
Creditors' Rights Attorneys
Criminal Law
Custody & Support Law Attorneys
Debt Consolidation Attorneys
Disability Law Attorneys
Discrimination & Civil Rights Attorneys
Divorce & Mediation Services
Divorce Attorneys
Drug Charges Attorneys
DUI/DWI Attorneys
Education Law Attorneys
Elder Law Attorneys
Election Law Attorneys
Eminent Domain- Condemnation Attorneys
Employment & Labor Law
Entertainment & Sports Law Attorneys
Environmental & Natural Resources Attorneys
Estate Planning & Administration Attorneys
Family Law
Firearm & Gun Law Attorneys
Franchise & Licensing Law Attorneys
General Practice Attorneys
Government Contracts & Claims Attorneys
Health Care Law Attorneys
Immigration Law Attorneys
Insurance Law Attorneys
Intellectual Property Attorneys
International Law Attorneys
Juvenile Law Attorneys
Land Use & Zoning Attorneys
Landlord & Tenant Law Attorneys
Legal Information Services
Malpractice & Negligence
Maritime & Admiralty Law Attorneys
Media & Communications Law Attorneys
Medical Malpractice Attorneys
Military & Veterans Law Attorneys
Native Persons Law Attorneys
Non-Attorney Court Agents
Nonprofit Organizations Attorneys
Patent & Trademark Attorneys
Personal Injury Attorneys
Product Liability Law Attorneys
Property Law Attorneys
Real Estate Attorneys
Real Estate Attorneys Commercial & Industrial
Residential Real Estate Attorneys
Sexual Abuse Attorneys
Sexual Harassment Attorneys
Small Business Planning Attorneys
Social Security Attorneys
Tax Attorneys
Tort Attorneys
Toxic Substances Attorneys
Traffic Law Attorneys
Transportation & Public Utilities Law Attorneys
Trial Attorneys
Vehicular Accident Attorneys
Whistleblower Attorneys
Workers' Compensation Attorneys
Wrongful Death Attorneys
Wrongful Termination Attorneys