Dental Board Registry Dentist Database
v.1.0.2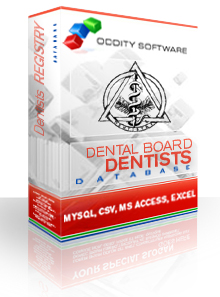 120,211

Dentists

Download the Dental Board Dentists Registry Database for the largest dentists list available. Dentistry is the practical application of knowledge of dental science (the science of placement, arrangement, function of teeth and their supporting bones and soft tissues) to human beings. A dentist is a professional practitioner of dentistry. In most countries, to become a qualified dentist, one needs several years of training in a university (usually 4-8) and some practical experience working with actual patients' dentition.
Importance of using reliable professionals provided in ONE list
Let's face it: Going to the dentist is bad enough with the drill, the numbed mouth and a D.D.S. with an unfriendly manner. But there's the catch and the cycle. If you don't go, the problem won't get fixed, but you're too chicken to go TO get the problem fixed to start with. We have recognized the importance of knowing where to go. By creating a comprehensive, reliable U.S. Dental Board Registry Dentist Database, a downloaded database is available for download now!
Trusted professionals provided no worry of scammers!
When you're using a database list, we recognize the worry of promoting doctors or services you aren't aware of their effectiveness. However, we guarantee the individuals in our down loadable list are professionals you can trust. A D.D.S. listed in the dentist database is known as a "Doctor of Dental Services." They all must pass a rigorous Dental Board of Regents test in their practicing state and undergo four to 8 years of university and residential training before receiving their license to practice. Many dental databases inform you who is still active or retired in their system; they don't tell you how their chair side manner is, however. Trust in our U.S. Dental Board Registry Dentist Database to provide only the best!
Marketers and telemarketers have new services to promote
Creating new campaigns can be a daunting tasks. However with dentistry, the newest practice of teeth whitening may be a good start for a new campaign. The U.S. Dental Board Registry Dentist Database in downloadable form will provide a great base to promote the services of these professionals. Web masters can easily download the list and upload them to any search engine by means of further extending their business. Simple, easy results, with just one click. What more could you ask for?