Marketing to Australia Businesses
Download Australia Businesses Database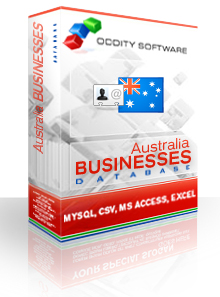 Australia is a country that offers a number of benefits to entrepreneurs and those who wish to start businesses in the region. In the last five years, the Australian government has presented a number of provisions that has made the country a great place to do business. This is not only limited to Australian start up companies, but it is also offered to foreign companies that wish to do business in the region as well. Overall, Australia is a country that has a work force of approximately 10 million people. Like the United Kingdom, services make up about 70% of the country's economy, and the second largest sector is manufacturing and construction.

Australia has a number of powerful economic advantages. It is roughly the same size as the United States, but has a population of about 20 million instead of 300 million. The government has done a number of things to make conducting business in the region profitable, and some of these things are a reduction of high tariffs and a floating exchange rate. Foreign companies that wish to do business in the region will find that there are not a large number of barriers. The Australian legal system is very similar to what you would find in the United States, and this can be very comforting for foreign firms that wish to do business there. The business culture in Australia is straight forward. Historically, United States companies in particular have done a fine job in the region.

As of 2004, the Australian economy has continued to move forward at a rapid pace. Indeed, there are a large number of opportunities for foreign businesses that wish to market their products and services to Canadian businesses. The passing of AUSFTA, of the Free Trade Agreement between Australia and the United states in 2005 has made it easier to conduct foreign business in the country, especially for American firms. The unemployment rate for the country is low, and statistics show that it is approximately 4.7%. In addition to this, the income in the region has continued to increase. Inflation is low, and spending by businesses have continued to increase. English is a language that is widely spoken in the region, and this reduces the language barriers that foreign companies will find in other regions.

The various good signs of the Australian economy shows that it is a great place to conduct business. It is great for native businesses, and it is excellent for foreign companies. The Australian government has given a number of incentives for entrepreneurs who wish to operate in the region. This has led to the growth of a large number of businesses, and many of these companies are online as well as offline. While many foreign businesses wish to simply sell products within Australia, there are a number of opportunities for companies that wish to market to Australian businesses. This is a niche market that many firms have failed to tap into. The companies that move quickly into this field will be the firm that is the most likely to succeed.

While this article has placed an emphasis on American firms that choose to conduct business in Australia, it should also be noted that both Asian and European companies are active in the region as well. Japan in particular is quite noted in the region. A number of these companies have set up subsidiaries in the region. If you are an American company that is looking to market to Australian businesses, it should be noted that some of the most profitable areas for American companies are software, defense, medical services, medicine, and businesses that related to the environment. While many other foreign countries have continued to do business in Australia, the United States has continued to stand out as a powerful force, especially politically.

The cost for Australian commodities tend to be quite high. An example of Australian commodities that are fairly high are agricultural and energy resources. There is also a large amount of demand for Australian exports. The Australian currency has continued to remain strong. Because the American dollar is currently weak against the Australian dollar, this presents a number of opportunities to American companies. To successfully market to Australian businesses, there are a number of things you will want to keep in mind. The first thing you will want to do is understand and research the market you're interested in doing business in. Without researching the market, you will greatly reduce your chances of success.

Once you have found a market that you're interested in, you will next want to find a excellent partner. You will need to provide support to your partner, and vice versa. Because many Americans are familiar with the language and overall structure of Australia, many of them make the mistake of believing that there are no cultural differences. However, there are differences in culture, and this must be recognized by those who wish to do business in the country. Once you understand the culture, this will help you better conduct business in the country. Once you understand the culture of the country, it is next important to establish a powerful presence. It is likely that you will need to hire what is called a distributor or agent.

You will need to negotiate with the distributor upon hiring them, and they may only work in a specific region. Because the vast majority of foreign companies that do business in Australia are located long distances from the country, it is important for them to make sure they have regional support. You will want to make frequent trips to the country to make sure you have strong support. This is the common practice that is conducted by businesses in the region. When you do these things, you will tip the odds of success in your favor. Australia is a excellent market, but it is important to know the rules and regulations that are related to doing business in the country. You should also research the businesses that you wish to market your products to.