About Financial Advisory Services Database
Download Financial Advisory Services Database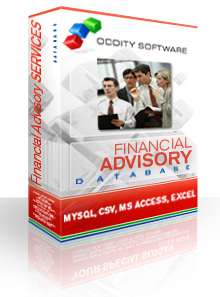 If there is anything that truly requires professional consulting, it has to be financial matters. Finance is deeply personal matter all right but it requires a good degree of know-how so that each financial detail is in order and maximized.

Financial services refer to a host of services, mostly the management of money, available in the market from financial institutions. Credit card companies, banks, lending institutions, asset managers, stock brokers and even insurance companies are just some of the more common financial institutions. There are a number of financial consultants specializing in various fields. Financial institutions vary a great deal and professional consultants help people understand the finer details and values of each one.

Almost all financial companies offer not just maintenance or management of assets but also provide opportunities for increasing a person's or a business' wealth. Banks offer the management of cash but almost all banks now offer a mix of important services including mortgages, loans and issuance of credit cards. Banks have also used new technologies to provide clients with offshore and virtual banking through Automated Teller Machines and the internet.

Insurance companies offer coverage for premature death or destruction of different kinds of assets. There are also pre-need firms that offer the payment of specific amounts after the account owner has paid the agreed number of premiums.

Mortgage and lending companies provide cash for credit-worthy clients making major purchases such as homes, buildings or other assets.

Asset management companies manage collective investments or what is more commonly known as mutual funds. This type of financial institutions not only provides facilities to keep cash but provides the opportunity for growing the money by investing it in a host of options which include but is not limited to the stock market, money market, and government bonds. While asset managers are competent and highly-experience in investments, investors must remember that any kind of investment involves risk.


Other financial services include book keeping, Accounting and auditing services, Income tax services and business valuation. More sophisticated financial services include facilitation of acquisitions and mergers, estate planning and administration, art & jewelry appraisals, acquisition and management, Stocks and Bonds & Bonds Commodity Brokerage, and Debt consolidation or debt restructuring.