About Audiologist
Download Doctors & Physicians Database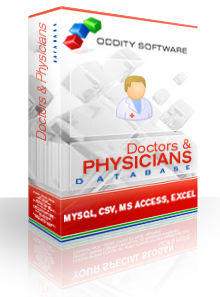 Audiologists are the health professionals that you would like to see if you have ear, balance, or hearing problems. They provide both medical and non-medical assistance to the known sufferers of these diseases. Some audiologists adapt an area of expertise such as caring for children alone or only for the elderly people with hearing dysfunction. On the other hand, a few of them of them work as a researcher who conducts the new studies of a particular ear disease.

The job of an audiologist includes the facilitation of hearing tests, interpreting their results, and implementing a rehabilitation program for the patient. It is also an audiologist's job to accurately diagnose a hearing dysfunction against other health conditions that have similar signs and symptoms. They are also the ones tasked to fit patients with hearing aids and similar listening devices. Some audiologists also conduct private counseling for the patient with hearing disorders, as well as their families.

Audiologists can avail of the CCC-A certificate or the Certificate of Clinical Competence in Audiology from the American Speech Language Hearing Association. To avail of the said certificate, one should have completed a graduate degree, 375 hours of supervised experience in a clinic, 36 weeks of clinical fellowship for post graduates, and passed the Praxis Series exam.

Currently, there are more than 10,000 audiologists in the U.S. and a small portion of them works as a self-employed practitioner. Some works in clinics, healthcare facilities, schools, and other the establishments that requires their expertise. The number of practicing audiologists is expected to rise in the coming years. The average earning of audiologists is currently more than $50,000 annually.