About Doctor of Chiropractic Medicine
Download Doctors & Physicians Database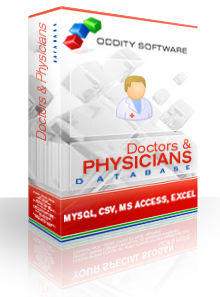 The doctor of chiropractic medicine is a health professional who identifies and treats neck and back pains. They are considered to be primary care doctors because they are the first physicians visited by most patients suffering from pains in those two particular areas. These doctors field of expertise is in the body's skeletal, nervous, and muscular systems. They are especially proficient in the spinal areas.

Before aspiring chiropractic medicine doctors becomes one, they have to attend four years undergraduate chiropractic education. Then a full year of internship at a clinic sponsored by their college is required. In order to practice, they have to complete the two levels of exam given by the National Boards. The professionals who wish to employ physiologic therapeutics in their practice have to complete level three of the said exam. The fourth part of the test is the licensing exam that assesses the knowledge of the aspirant in case management, diagnostic imaging, and the chiropractic technique.

The doctors of chiropractic medicine work under the principle that skeletal imbalance and dysfunction in the spine area affects the performance of the nervous system in general. And that it may also cause the skeletal system not to work as normally, so people experience joint pains from time to time. To address this problem, these doctors proceed in treating the patient by manually adjusting or manipulating the vertebra or the spinal column. They use different therapies to treat the patient such as massage, ultrasound, water, electric, light, and heat. They may also prescribe the use of muscular support like braces, straps and taping. But these doctors are not qualified to prescribe oral medicines or perform surgery. If the need for those arises, then they would need to refer the patient to another health expert.