About Nurses and Nursing
Download Nurses and Nursing Database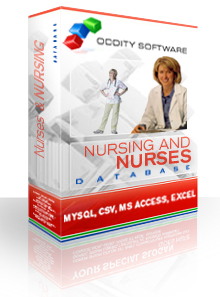 Do you have a sick family member? Have you ever felt that the way you are taking care of your sick loved one is never complete, as if you always feel that you are inadequate and the services that you are offering to that sick loved one would never be enough? Or are you the type of person who believes it is of significant worth to have a nurse in the household all the time, even if nobody in the house is sick. If you answered yes to any of the above questions then this database of nurses is worth your time.

We always consider it a challenge to find the right person to take care of us, whether in sickness and in health. And we have to thank modern technology and these health care workers and providers for submitting themselves in databases like the nurses database. With the use of the database, searching for these legally qualified and reliable nurses is just an easy piece of work. Nurses offer their services to those who need further medical attention after a hospital confinement. Some of the nurses also agree to provide their nursing care to those who are confined in the hospital but no family member is available to take care of them. These nurses are ready to offer their services to those who don't have enough time to personally care for the concerned sick loved one. For those who feel that they lack the medical knowledge to take care of the sick family member, a nurse is always there to render the utmost nursing care that she/he can provide. Private duty nurses are always available for individuals that are under conditions that require post-medical care in the comfort of their own home. You can always get the service of the perfect nurse of your choice. You can evaluate which nursing staff will match the nursing needs that you require as you refer to their educational qualifications and their past nursing experiences.

In case you need the service of an efficient nurse, you can always contact them anytime you want. Considering that you have consulted the database of nurses, you have avoided the hassle of spending too much time searching for the perfect nurse to suit your nursing needs. Armed with the skills and the knowledge that they have acquired, the services that they are willing to offer are enough to give us assurance that our sick loved one is safe under their care.