Article Content and SEO Implications
Download Contextual Articles (with Reprint Rights) Database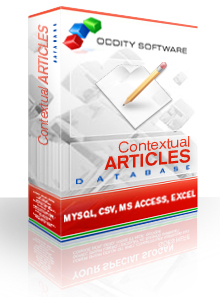 While many webmasters place a high emphasis on the quality of their links in order to gain high rankings in the search engines, many of them often forget the important of high quality content. Search engines are paying more attention to the information that is available on your page. While both reciprocal links and one way links are important, a high emphasis should be placed on creating high quality content as well. The goal of all the search engines is to provide the most relevant information for their users. When people type keywords in the search section of the search engines, the search engine will automatically scan its index to find the websites or blogs that have the most relevant information.

Just as the goal of the search engines is to find the most relevant information for their users, the goal of the successful webmaster must be to cater to the search engines. Give them the information they want, and they will reward you for it. By putting the keywords on your website that users are typing into the search box, you will greatly increase your chances of having your website appear in the top 20 search results for that phrase, and this further increases the chances of having the visitor arrive at your website. If you are a webmaster who is marketing your services or goods to consumer, you will want to use the same keywords on you website that they will use when typing phrases in the search box.

While many webmasters choose to put a bunch of rich keywords in one page, it is better to create a powerful keyword for each page on your site. The search engines will give a preference to webpages that focus on a singular theme. If you have a page that fouses on different types of information, this may cause the search engines to become confused. You will want to put the best keywords you can find on the header of your page. Keywords and content are an important part of SEO. Not only are they an important part of SEO, they are also critical for those who want to be successful with affiliate programs.


Too many novice webmasters place an emphasis on the design of their website. They will spend a great deal of time creating a fancy website with
Flash animation
, and they hope that the impressive visuals of the site will allow them to generate sales. If you talk to most veteran webmasters who are skilled with both affiliate sales and SEO, they will tell you that placing an emphasis on the looks of your website is a waste of time. While this does not mean you will want to build a website that is poorly designed, the search engines are not concerned about the fancy animation on your site, and it is the search engines that account for nearly 80 percent of all the internet traffic.
What this means is that you will need to focus on assisting the search engines in finding the most relevant information on your site. By assisting the search engines, you will assist the visitors they send to you, and once you've accomplished this, you will find yourself earning money through the sell of your products or services. The content that you place on your website will play a critical role in the success or failure of your online business. In many cases, the content on your website will play a role in whether or not your visitors will return. If they like your site enough, they will bookmark it, and statistics show that they are likely to make a purchase after visiting your website about seven times.
The way you start off the very first paragraph of your articles is very important. You will want to use a powerful introductory sentence they will literally draw in the readers. You will want to create content that can be likened to a great tasting meal. The reader will take a small bite of it, and once they realize how good it tastes, they will want more. Another important strategy for content SEO is to focus more on using phrases instead of one word. Studies have shown that the typical web surfer is typing at least two to three phrases in the search box. The reason they do this is because it has been proven to bring back better results.
When you find a really good keyword, you will want to repeat it more than once throughout the course of the article. Generally, you will want to repeat the keyword once for every 100 words that comprise your article. The search engines will have a preference for keywords that are repeated. Another technique that can allow you to become successful is by placing specific keywords in either bold or turning them into hyperlinks. This tells the search engines that they are important. However, you don't want to do it too much, as you may annoy those who read the information on your website.
Many webmasters aren't not successful as affiliates because they fail to understand the important of content SEO. It is critically important to remember that if you are an
affiliate selling a product
or service, it is very likely that there are many other websites selling the same thing. By separating your website from the thousands of other sites selling the same product, you must focus on providing
high quality content
that attracts visitors to keep reading. While content is often related to text, graphics and even video can be useful as well. By giving your visitors valuable information, both they and the search engines will reward you for it.
A large number of webmasters get caught up in all the ever changing tricks that are related to SEO. At the very least, placing an emphasis on SEO tricks may be a waste of time, and at the very worst, you may find your website banned from the search engines. Don't try to take the easy way out. Build a content rich website on a topic you love and focus on providing both visitors and the search engines the best information available. By combining this with consistency, you will find that the traffic to your website or blog will continue to increase. If you are looking for good
article content
already written, check out our article database.