Doctors and Physicians Database Credentials
Download Doctors & Physicians Database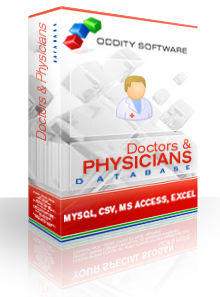 Below are definitions and information regarding the different medical credentials for Doctors and Physicians found in this database. The medical care provider database contains the following health care providers: Audiologist (AU), Certified Nurse Assistant (CNA), Certified Nurse Midwife (CNM), Clinical Nurse Specialist (CNS), Doctor of Chiropractic Medicine (CH), Certified Social Worker (CSW), Doctor of Dental Medicine (DDM), Doctor of Dental Surgery (DDS), Doctor of Osteopathic Medicine (DO), Doctor of Podiatric Medicine (DPM), Medical Doctor (MD), Nurse Practitioner (NP), Doctor of Optometry (OD), Physician Assistant (PA), Physical Therapist (PT), and others.


Audiologist Database
Audiologists are the health professionals that you would like to see if you have ear, balance, or hearing problems. They provide both medical and non-medical assistance to the known sufferers of these diseases. Some audiologists adapt an area of expertise such as caring for children alone or only for the elderly people with hearing dysfunction. On the other hand, a few of them of them work as a researcher who conducts the new studies of a particular ear disease.
The job of an audiologist includes the facilitation of hearing tests, interpreting their results, and implementing a rehabilitation program for the patient. It is also an audiologist's job to accurately diagnose a hearing dysfunction against other health conditions that have similar signs and symptoms. They are also the ones tasked to fit patients with hearing aids and similar listening devices. Some audiologists also conduct private counseling for the patient with hearing disorders, as well as their families.
Audiologists can avail of the CCC-A certificate or the Certificate of Clinical Competence in Audiology from the American Speech Language Hearing Association. To avail of the said certificate, one should have completed a graduate degree, 375 hours of supervised experience in a clinic, 36 weeks of clinical fellowship for post graduates, and passed the Praxis Series exam.
Currently, there are more than 10,000 audiologists in the U.S. and a small portion of them works as a self-employed practitioner. Some works in clinics, healthcare facilities, schools, and other the establishments that requires their expertise. The number of practicing audiologists is expected to rise in the coming years. The average earning of audiologists is currently more than $50,000 annually.
Certified Nurse Midwife Database
A certified nurse midwife is considered to be a type of nurse that has an added competency and field of expertise, as they have acquired additional training and skills. They are capable enough to deliver babies and provide both pre natal and post partum care to mothers.
Certified nurse midwives work mostly inside the delivery areas of a health facility. They assist their patients, mostly pregnant women, during their labor up until the baby is delivered. They are fully trained to determine if the mother is suffering from abnormal conditions before, during, and after labor. They are also tasked to report directly to a physician should any of these conditions arise. Certified nurse midwives are also qualified to take care of new-born babies. This means that they can provide care for both the baby and the mother at the same time.
Some certified nurse midwives are involved first hand in counseling for birth control and family planning. Some perform tests such as breast exams, pap smears, and other preventive health tests for women. In some states, certified nurse midwives are even allowed to prescribe medicines to their patients.
The nurse-midwives certification can be obtained from the American College of Nurse Midwives. To become qualified for the certification exam, one needs to finish the nurse-midwifery baccalaureate program in an accredited. Currently, there are 50 education institutions operating in all of U.S. And once qualified nurse midwives have obtained their certification papers, they can practice anywhere in America. There are a total number of 6,700 certified nurse midwives active in the U.S. More than 75% of them established their own clinics where they can work.
Certified Nursing Assistants Database
Certified nursing assistants (CNA) are the people who work within the area of care giving. CNA's are sometimes interchangeably referred to as home health aides, nurse's aides, personal care assistants, and patient care technicians. They are usually employed at nursing homes, adult day health centers, hospitals, assisted home facilities, and even residential houses.
Certified nursing assistants work directly under the supervision of a registered nurse. They work closely with the patient and they are tasked to report all vital information regarding the patient's condition. To become a CNA, one has to go through an intensive training process. The training programs are facilitated by professional nurses and may run anywhere from 2 weeks to a full month, with a series of actual hospital training to supplement it.
These trainings are offered through community colleges, the Red Cross, or by the medical facility itself. All the basics of a nurse's duty are taught. These include dressing, bathing, feeding, toileting, and assisting patients. It is the job of a CNA to get the vital signs of the patient, perform Post Mortem care on them, and document all the care provided to the patient on a daily basis.
But these are not the most important task of a CNA. It is also their duty to ensure that their patient is very comfortable and is happy, despite their medical condition. Being a CNA requires genuine compassion and absolute patience. The job of a Certified Nursing Assistant is very challenging, as it requires both mental and physical skills. But it is quite a fulfilling job too – as they care for the people who are in need the most.
Clinical Nurse Specialist Database
Clinical nurse specialists are licensed nurses who have special expertise gained from their Doctorate or Master's degrees. They are registered nurses who are considered expert in their chosen field. If they choose to focus in population, they could then be the nurse experts in women's health, pediatrics, or geriatics. They may also want to concentrate on a hospital setting and be a critical care, operating room, or emergency room specialists. Clinical nurse specialists may also give attention to a certain type of disease like oncology, diabetes, or heart problems; or a type of care like rehabilitation and psychiatric care. Their field of expertise may also lie on a type of problem, like wound, pain, or stress.
Clinical nurse specialist is qualified to become a case manager, since their capability exceeds that of a higher-level staff nurse. As a case manager, he or she coordinates and organizes the resources, services, and even control the costs of the department. A clinical nurse specialist is also tasked to educate the people under her, which include the patient, the nursing staff, and the other members of the team. They may also teach in communities and schools, both in the undergraduate and graduate nursing programs.
Clinical nurse specialist mainly provides dedicated patient care and may give out orders and suggestions to directly improve a particular health care system process. These professionals can practice independently, or may choose to work in health care institutions like hospitals and caring facilities. Some works for the government in its many health care agencies nationwide.
Doctor of Chiropractic Medicine Database
The doctor of chiropractic medicine is a health professional who identifies and treats neck and back pains. They are considered to be primary care doctors because they are the first physicians visited by most patients suffering from pains in those two particular areas. These doctors field of expertise is in the body's skeletal, nervous, and muscular systems. They are especially proficient in the spinal areas.
Before aspiring chiropractic medicine doctors becomes one, they have to attend four years undergraduate chiropractic education. Then a full year of internship at a clinic sponsored by their college is required. In order to practice, they have to complete the two levels of exam given by the National Boards. The professionals who wish to employ physiologic therapeutics in their practice have to complete level three of the said exam. The fourth part of the test is the licensing exam that assesses the knowledge of the aspirant in case management, diagnostic imaging, and the chiropractic technique.
The doctors of chiropractic medicine work under the principle that skeletal imbalance and dysfunction in the spine area affects the performance of the nervous system in general. And that it may also cause the skeletal system not to work as normally, so people experience joint pains from time to time. To address this problem, these doctors proceed in treating the patient by manually adjusting or manipulating the vertebra or the spinal column. They use different therapies to treat the patient such as massage, ultrasound, water, electric, light, and heat. They may also prescribe the use of muscular support like braces, straps and taping. But these doctors are not qualified to prescribe oral medicines or perform surgery. If the need for those arises, then they would need to refer the patient to another health expert.
Certified Social Worker Database
Social work is for the type of people who have the innate desire to improve another person's life. Certified social workers closely work with disoriented and misguided people and help them function within the group they belong to as well as their environment, in the best possible way. Most of the clients of social workers are those with life threatening and terminal diseases, including those with mental health illness. A number of their clients also belong to the group that has deep social and personal problems.
Some certified social workers focus their expertise in helping children and families. They are called the child, family, and school social workers. They are the ones that usually work in social communities and schools. They give assistance to children usually and the families they belong to. Children and teens, together with their parents, that are encountering problems inside their homes fall under their care. Such problems may include domestic conflicts affecting the child or either the spouses.
Certified social workers may also choose to work inside public health and medical institutions. They directly provide the psychosocial support that patients with terminal, acute, or chronic illnesses need. Most of their clients are patients suffering from cancer, Alzheimer's disease, or AIDS. They also work with their respective caregivers, talk to patients on a regular basis, and assist them in their needs. They also counsel the immediate family members of the patients.
Certified social workers may also work inside institutions that provide care for mental health patients and those who have history of substance abuse. Substance abuse includes the excessive use of alcohol, tobacco, and other drugs. Under this condition, certified social workers conduct group and individual therapy, crisis intervention, outreach, social rehabilitation, and skills training.
Doctor of Dental Medicine Database
If a professional dentist is referred to as a doctor of dental medicine, it means that he or she had completed a doctorate degree set for dentists. After completing the undergraduate degree and several years of dental school, a person becomes a general dentist. But to become a doctor of dental medicine, a few years of post graduate training is needed.
All doctors of dental medicine are well versed in areas of human anatomy, pharmacology, biochemistry, pathology, microbiology, and bacteriology, among others. They are also adept with all dentistry works, including preventive care and restorative procedures. Additionally, they qualified to perform periodontics, endodontics, prosthetics, oral surgery, and occlusion on their patients.
Most doctors of dental medicines are solo practitioners. Although right now, a lot of employment opportunities await them. In fact, that number increases annually. Most of this is due to the fact that several dentists retire each year and they have to be replaced by young and dynamic professionals when they stop their practice.
This means that the job outlook for doctors of dental medicine is good right now and it is expected to stay that way in the coming years ahead. Part of the job of doctors of dental medicine is to educate their patients of the right way of taking care of their teeth and preventing their loss.
Being a doctor of dental medicine requires optimum diagnostic abilities as well as manual skills. Aspirants should also possess an almost perfect visual memory. They must be good judges of shape and spaces, have scientific abilities, and lastly, a very high level of manual agility so as to be successful in their chosen craft.
Doctor of Dental Surgery Database
The Doctor of Dental Surgery degree is similar to that of a Doctor of Dental Medicine. These two degrees have the same educational curriculum and so the professionals holding such degrees are considered equal as well. But before a person becomes a certified Doctor of Dental Surgery, he or she has to complete an undergraduate course or a bachelor's degree. And after completing that, he would then attend a dental school, and that would take another four years of study. This dental school is the equivalent of graduate school of other educational courses.
After finishing the required graduate school for dentists, the successful ones may opt to go through a residency program. The length of that depends upon the expertise the dentist would like to gain. General dentistry generally takes only a year. But endodontics and orthodontics could take around two years or more.
And since doctors of dental surgery are qualified to perform oral maxillofacial surgery, they can only do so after six years with an additional degree or four years without. Most of the procedures of the practice of Doctor of Dental Surgery are similar to that of a medical doctor. But then again unlike a medical doctor, a Doctor of Dental Surgery is not required to go into residency after graduation.
Doctors of Dental Surgery are well versed in human anatomy, biology, and biochemistry as they take several units of these during their pre-dental course. Then the next few years of study is focused on dental training, as well as the involvement of other parts of the body, particularly the head and the neck. A lot of universities all over the world are offering the Doctorate of Dental Surgery degree. And the best curriculums are offered in the U.S., Canada, U.K., and Australia.
Doctor of Osteopathic Medicine Database
The Doctors of Osteopathic Medicine are considered as complete physicians. They are the doctors who are regarded as experts in musculoskeletal therapy and their main task is to ensure the total wellness of the person. Osteopathic physicians are highly qualified to prescribe medicine and perform surgery and are licensed to practice in any state. The main principle of their practice is to guarantee the workability of the body structure with its corresponding function. These doctors are also inclined to help the body to heal itself naturally.
Aspirants of Doctors of Osteopathic Medicine undergo four years of comprehensive undergraduate education with emphasis on science courses, as well as disease prevention. Part of the training of the Doctors of Osteopathic Medicine is to treat a person totally, instead of just focusing on the treatment of their disease. Given this fact, the Doctors of Osteopathic Medicine mostly specialize in the fields of family medicine, obstetrics, emergency medicine, and pediatrics. And y because they are highly trained in musculoskeletal systems, a number of them practice as sports team physicians.
The Doctors of Osteopathic Medicine are very similar to allopathic physicians, or the M.D.'s. They are similar in a way that they undergo the same educational curriculum and the virtually the same training. The only difference lies in the ability of the Doctors of Osteopathic Medicine to employ the "complete person" healing approach in medicine. This means that when they treat a patient, they treat their whole body as a whole, and not just the body parts and structures affected by the disease they have.
Doctors of Podiatric Medicine Database
The Doctors of Podiatric Medicine are usually simply referred to as Podiatrists. They are the doctors who are deemed experts of the structure, care, treatment of the feet. Podiatrists treat corns, bunion, calluses, heel spurs, ingrown toenails, and arch problems present on a person's foot. They are also the health experts that one needs to see if they acquire foot and ankle injuries, infections, and deformities. The people who had developed or are prone to developing diabetic foot also need to see a podiatrist for consultation and treatment.
The Doctors of Podiatric Medicine are also trained to design straps and plaster casts to correct all known foot deformities. They can also design customized shoes to help those with arch problems. And just like regular doctors, they also order laboratory tests and x-rays to diagnose most foot problems.
A lot of Doctors of Podiatric Medicine practice solo. Currently, many of them are specializing in surgery and orthopedics. They also enjoy professional freedom as they ca can practice under a certain field should they choose to, and their options include sports medicine, geriatric, dermatology, and even pediatrics.
All U.S. States require Podiatrists to hold a license prior to practice. This means that they have to first complete the undergraduate degree necessary, as well as pass both the written and oral exam prepared for them. Requirements may vary from one state to another, but once the doctors are granted license, they can practice anywhere because many States grant reciprocity.
Right now, there are more than 10,000 jobs held by podiatrist and more than 20% of them have clinics of their own. And the employment opportunities for these health professionals are expected to increase greatly in the coming years. The Doctors of Podiatric Medicine currently earns an average of over $100,000 in net income annually.
Nurse Practitioner Database
A Nurse Practitioner is a duly registered nurse who has finished at least a master's degree in nursing. He or she also has gained adequate training to diagnose and manage the most common medical problems and chronic illnesses. In effect, Nurse Practitioners are qualified to prescribe medicines to the patients under their care.
Some Nurse Practitioners can even assume the job of psychiatric clinicians, which means they could do all the things a bona fide psychiatrist could. A Nurse Practitioner's main job is to provide individual care to patients. They can serve as health care providers of patients both young and old. It is also their job to provide them with the right information regarding the prevention of their disease as well as the proper way to promote wellness. Additionally, Nurse Practitioners could also perform minor surgeries such as suturing and dermatological biopsies.
There are also Nurse Practitioners tasked to conduct medical researches. And after gathering the necessary data, they need to collaborate with other health professionals and physicians to address health issues, should there be a need to.
A Nurse Practitioner needs a license in order to practice. And to qualify for a licensure exam, they should already have passed the exam designed for a registered nurse. They also must be holding either a Master's Degree or a Doctorate in Nursing. Depending on State they wish to practice at, their license is valid for two or three years. After which, it has to be renewed by taking the licensure exam again. Some states may have additional criteria for re-licensing.
Doctor of Medicine Database
The Doctors of Medicine are the most common practitioners in the field of health and medical courses. To become a legitimate Doctor of Medicine, one has to undergo four years of medical school after finishing an allied undergraduate course. And after the whole course is completed, a series of licensing exams have to be taken as well. After medical school, residency training is also required.
In essence, the Doctor of Medicine degree is the very basic degree one has to acquire in order to practice medicine. This degree is closely related to its counterpart, the Doctor of Osteopathic Medicine (D.O.). In fact, the two courses' educational curriculum and training is very similar to each other.
During residency, a Doctor of Medicine would have the liberty to choose a field of specialty. And the length of his residency training would depend upon that particular field he selected. Among the choices one has are anesthesiology, dermatology, emergency medicine, general surgery, internal medicine, neurology, obstetrics and gynecology, pathology, pediatric, psychiatry, and radiology.
The Doctors of Medicine are basically the regular doctors you see from time to time for your health checkups and consultations. They are the ones tasked to treat a patient of his disease either through the use of medications or surgery. Many think that to take a Doctor of Medicine degree is rather expensive. Quite true, but then again, this is one of the most fulfilling professions around. Besides, a medical doctor could earn more than $300,000 each year, depending upon his length of expertise.
Physical Therapists Database
Physical Therapists are the health professionals who provides for the relief of pain, function restoration, and mobility improvement of people suffering from physical disabilities rising from injuries and diseases. Physical Therapists are tasked to promote, restore, and maintain their patient's overall health and fitness after a crippling disease. The patients of physical therapists are usually accident victims and those suffering form health conditions that can disable a person such as heart disease, arthritis, and cerebral palsy.
Physical Therapists are the professionals whose task includes the testing of the strength of the patient, their range of motion, coordination, balance, muscle performance, posture, motor function, and respiration. It is also their job to analyze the person's ability to go back to his job after sustaining injuries.
Once a patient's condition is determined, Physical Therapists would then prescribe a mode of treatment strategy so as to address the patient's disability. Such treatment usually include a series of regular exercises, the use of electrical stimulation, cold compresses, and hot packs. Some also use ultrasound and deep tissue massage to relieve pain. It is also the Physical Therapists who assist and teach patients in using prostheses, crutches, and wheelchairs as a way to address their mobility problems.
Physical Therapists usually work inside hospitals, clinics, schools, and even personal offices. And just like other medical courses, Physical Therapists need to be licensed before they can practice. These professionals earn around $60,000 a year working part time in health facilities and partly as a private practitioner.
Physician Assistant Database
Physician Assistants are licensed health providers who works under the direction of a medical doctor or physician. And just like real doctors, they can provide the many health care services usually performed by their superiors. Then again, they may only work directly under the doctor so they are always part of their team.
The Physician Assistant's expertise depends upon the doctor he or she is working with. If the Physician Assistant is working under the direct supervision of a family physician, then his expertise is lies in diagnosing common illnesses, doing physical exams, and developing treatment plans for the patients. On the other hand, if he works closely with a surgeon, then he would be trained with all the surgical techniques and procedures performed inside the operating room, as well as the proper way of providing a patient with preoperative and postoperative care.
In many states, Physicians Assistants are allowed to take over for the doctor they closely work with. Given that, Physician Assistants are equipped with the ability interpret lab tests, provide preventive care, suture wounds, and write prescription in addition to the main tasks stated previously. Physician Assistants may substitute the doctor if and when they are away from practice.
In essence, Physician Assistants are the same with medical students in a lot of ways. It's just that medical doctors had spent more time in school than Physician Assistants have. Physician Assistants are not required to go through residency or internship either. They can only share with the responsibility of the doctor. They also don't have the capability practice on their own. They always have to be under the command of a doctor.
Doctor of Optometry Database
Doctors of optometry, or simply optometrists, are the health professionals who provide vision care. Their job involves the examination of a person's eye so as to determine the presence of eye diseases and vision problems in them. They also test the eye's color perception, visual acuity, and depth. They make sure that the eyes retain its focusing ability and sense of coordination.
And when the Doctors of Optometry detects problems in their patient's eyes, they proceed to administer the right treatment for it. They can prescribe drug in the attempt to fully diagnose the disease or to heal it permanently. They are also the ones tasked to provide pre and postoperative care to the patients who and undergone eye surgery, especially for those suffering from cataract. And they are also experts in using laser technology to correct common vision problems.
A Doctor of Optometry is different from ophthalmologists, who are the ones performing the actual eye surgery on the patient. They are also different from opticians, who make eyeglasses for them. Optometrists, and sometimes ophthalmologists, prescribe the eyeglasses that the optics is supposed to make and then fit them on the patients.
Most optometrists work in their own clinics. But before they can setup one, they have to be duly licensed first. The National Board of Examiners provides the necessary licensing examination to students who had finished a 3-year undergraduate course and the 4-year optometry course that are required. Today, more than 34,000 self-practicing Doctors of Optometry in the U.S. are earning an average of $114,000 annually.