Naming Your Baby
Download Baby Names Database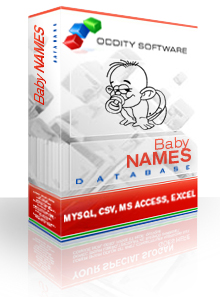 Naming your baby can be one of the most difficult decisions you will ever make in your life. No matter what name you choose, it is important to make sure you choose a name that will fit your baby. Remember, this is the name that people will call them by for the rest of their lives, and it should be a name that is both impressive and insightful. The give your baby the best name, there are a number of guidelines you will want to follow. The first thing you will want to do is decide whether you would like to choose a unique name or a more traditional name. Unique names with allow your baby to stand out, but it may also make them the subject of ridicule.

Traditional names are common, but if you choose one, you may find that many people are already using the same name for their children. Once you have made the decision of whether or not you will use a traditional name, you will next want to begin collecting names from your family tree and the family tree of your spouse. You will want to look for the names of family members who have played an important role in your life. It can also be a name that both you and your partner agree on. Another way to collect names is to write down the names of writers, artists, scientists, or other historical figures that you admire or respect. Giving your child the name of a famous singer, military general, or scientist could command a great deal of respect.

Many people chose to name their children have the figures in mythology. Mythological figures will often use names that have deep meanings, and you can connect this meaning with your own baby. Once you have finished collecting names from various sources, you will next want to think about geographical locations that you and your spouse find to be important. A number of people have begin naming their children have specific locations, and this trend has become quite popular in the last few years. Another good inspiration for names if your heritage. If you want to celebrate as specific heritage, you can take a name from an ethnic background and give it to your child.

There are a number of accomplished authors who have wrote best selling books on baby names. These can be excellent sources of potential names you could give to your baby. All you will need to do is read through the book and highlight any names that you find to be interesting. When you are looking at a potential name, it is important to make sure that the name is compatible with the last name of the child. It is generally a good idea to avoid using names that rhyme. It is also a bad idea to use first names that are longer than the last name. If you wish to pick a unique name for your baby, you will want to avoid naming them after celebrities. Once you have followed the steps listed so far, you should be able to narrow down your choice to a small selection.